Ritesh R. Prasad, M.D.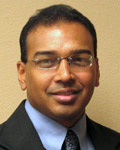 Ritesh R. Prasad, M.D.
Board Certified Physical Medicine & Rehabilitation
(Professional Services Provided Through East Texas Spine Institute, PA)
Dr. Prasad specializes in the non-surgical diagnosis and management of musculoskeletal conditions and brain injury. He is Board Certified in Physical Medicine and Rehabilitation and serves as Medical Director of our multidisciplinary brain injury program. He was trained at the renowned
University of Texas Southwestern Medical Center in Dallas
. He is a member of the Spinal Intervention Society, the Physiatric Association of Spine, Sports and Occupational Rehabilitation, North American Brain Injury Society, Texas Medical Association and the Smith County Medical Society.
Dr. Prasad practices brain injury medicine in a manner which utilizes medicine as a therapy itself, rather than just a management tool. He uses certain medications, when appropriate, in order to stimulate cognitive processes which in turn greatly supplements the cognitive rehabilitation services. I
n addition to his expertise in treating individuals with brain injury, Dr. Prasad has extensive experience in treating the polytraumas that may accompany head injury, such as neck pain, headaches, back pain, or fractures of the extremities.