Ritesh R. Prasad, M.D.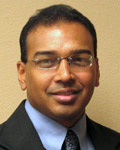 Ritesh R. Prasad, M.D.
Board Certified Physical Medicine & Rehabilitation

Dr. Prasad specializes in the non-surgical diagnosis and management of musculoskeletal conditions. He is Board Certified in Physical Medicine and Rehabilitation and serves as Medical Director of our Outpatient Medical Rehabilitation program, our Post Acute Brain Injury program as well as our Interdisciplinary Chronic Pain Management program. He is a member of International Spinal Injection Society, the Physiatric Association of Spine, Sports and Occupational Rehabilitation, Texas Medical Association and the Smith County Medical Society.